Roof of the World tour (21 days)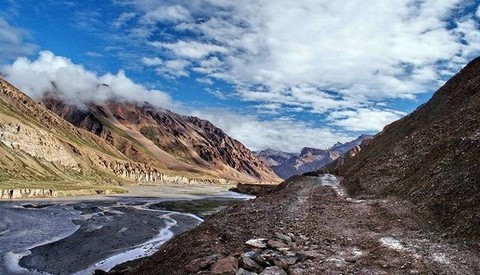 21 days tour in Ladakh, the land "between the hills".

Passage by 3 passes among the highest in the world: Baralacha-la (altitude 4890 meters), the Lachung-la (altitude 5065 meters) and the Tanglang it (altitude 5330 m), rolling for 250 km over 4000 meters.

This tour takes you into the spectacular scenery of the Rockies Spurs, meadows and streams.

Beware of mountain sickness. This is unpredictable and treacherous: above 3500 m, it can strike anyone, anytime ... Athlete or not, accustomed to the mountain or not, young or old. It can create severe headaches, loss of appetite and balance, like vomiting ... Prevention: eating light, avoid violent efforts and drink plenty of water.

Like all my tours, it is possible to modify anything according to your preference. Do not hesitate to contact me, and I will be pleased to organise the tour you are dreaming of.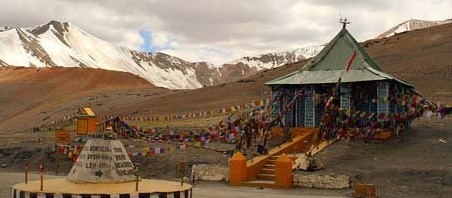 Days 1 and 2: Paris - Delhi - Chandigarh
Afternoon: rest, or visit the rose garden / rock Garden / Sukhna Lake / Government Museum and Art Gallery, Mansa Devi and Chandi Mandir Temple / musical water fountain.
Dinner and overnight at the hotel Ramgarh Heritage.

Day 3: Chandigarh - Nalagarh (60 km)
Tour, monuments designed by Le Corbusier, the Elante shopping Mall.
Road to Nalagarh.
Dinner and overnight at Fort Nalagarh.

Day 4: Nalargarh - Mandi - Kullu - Manali (250km / 7:30)
Morning departure to Manali by Mandi.
On the road, visiting the village of Naggar. Built on a mountainside with its traditional houses with slate roofs.
The small town of Manali is located at 2000 m above sea level in the valley of Kullu.
Overnight in Manali, at the Johnson Lodge.

Day 5: Manali
City tour, the temple of Manu temple + Hadimba Devi.
Vashisht village tour (15 minutes from Manali). Small Hindu temples, hot springs. The Ram temple is built with honey-colored wood.
Overnight in Manali, at the Johnson Lodge.

Day 6: Manali - Rohtang - Keylong - Jispa (140 Kms / 6 hours)
Estimated the second highest road in the world.
Lunch at Keylong.
Dinner and overnight at Jispa (3200m), at the Padma Lodge.

Day 7: Jispa - Sarchu (90 kms / 5 hours)
The landscape alternates between lakes and reservoirs (Deepak Tal), cliffs and deep canyons. Gradually, the green gives way to a red mineral ocher landscape. A meal at 4320 m altitude. Lack of oxygen can begin to be felt. The scenery is breathtaking.
Arrive at Sarchu. No electricity except solar power, no mobile phone network.
Dinner and overnight at tented camp Goldrop, the center of a meadow surrounded by mountains.

Day 8: Sarchu - Leh (250 km 8:30)
The road runs along a canyon, then made a series of 21 curves: Gata Loops. Passage 3 passes at 4738 m, at 5064 m, then 5336 m: Tanglang, the second highest pass accessible by car world. The road then descends to the small villages surrounded by cultivated fields, and then to the city of Leh (3550 m) on the banks of the Indus River.
This area has a rich flora, like the Tibetan wild ass, and an important fauna: wolves, snow leopard, black crane, Tibetan Snowcock ...
Night Lharisa Resort in Leh.

Day 9: Leh
City tour, the Shanti Stupa monastery (gompa) Namgyal Tsemo, Leh Palace, the Sankar Gompa or the museum of stones.
Market: Vegetables on the main street. The Tibetan Market (Old Leh Road) for clothing and antiques. The Moti Market: handicrafts, semi-precious stones and jewelry. And the District Changpa shops.

Day 10 Leh - Thiksey - Hemis - Shey: the Indus Valley (140 km)
Excursion in the beautiful valley of the Indus, with many gompas (monasteries).
Off to attend morning prayers at Thiksey. Then discover the monastery of Hemis.
Finally visit Shey, the ancient royal capital. Statue of golden Buddha Stock Palace visit.
Return to Leh and free time to stroll through the bazaar, where the culture and the influences of Tibet Kashmiri are mixed.

Day 11: Leh - Alchi (70 km - 2 hours)
Route along the Indus Valley: great show with a succession of desert plateaus and deep gorges. Visit the monastery Spituk. Stoppages Phyang monastery, still inhabited by fifty monks.
Magnetic Hill: the development of the area and surrounding hills creates an optical illusion that the line of descent is actually an uphill road. The objects and cars on the hill may appear to roll "up" despite the severity when they are in fact in the direction of descent.
A Nimmoo, the crystal waters of the Zanskar River mingle with swirling flow of the Indus River.
Stop at Basgo, the ancient capital of lower Ladakh.
Continue to the Likir monastery (gompa), the first monastery in Ladakh. Museum of ancient coins used in daily life of the monks as well as a fine collection of Tangkas.
Overnight in Alchi (3100 m)

Day 12: Alchi - Uleytokpo (11 km)
Visit the monastery of Alchi, the Pearl of Ladak.
Discovery Bazaar.
Yet only 11 km to get to camp for the night Uleytopko.
Walking tour of the monastery Ridzong (2 hours, 6 km), belonging to the Gelugpa sect and located far from civilization in a grandiose setting. Visit the monastery of Ridzong whose name means "mountain fortress", with a temple of the 19th. It is also an important Meditation Centre clinging to the mountain.
Back at the village of Chomoling. Visit the school nuns in the Chulichen convent.
Night in a tent in the Indus Valley, at Uleytopko.
Nearly Uletopko, is also: Saspol and caves of the twelfth century, tour if desired.

Day 13: Uletokpo - Lamayuru (90 km)
Lamayuru to start early for a unique experience of Buddhist monks : attend a prayer ceremony called 'puja'. This spectacular 11th century monastery, one of the oldest in Ladakh, in an unreal scenery and with a precious collection of sacred scrolls.
Afternoon: rest and discover the village of Nurla or alternatively, departure to Tingmosgang: the rich valley of Ladakh. visiting a convent full of women of the welcome that we discover their daily lives and their school, and the Palace Tingmosgang.
Dinner and overnight at the Hotel Apricot Tree.

Day 14: Lamayuru - Kargil (140 km - 5h)
Fotu-La mountain pass (4110 m) and Namika-La (3760 m) before descending to Mulbeck, one of the last Buddhist villages.
Visit the monastery of Chorten (3300 m), the last Buddhist sign before arriving in a Muslim region.
Dinner and overnight in Kargil (2680 m)

Day 15: Kargil - Srinagar (200 km - 8 h)
A long day on the road to reach the Venice Kashmir Srinagar.
You will cross the lunar vastness of Ladakh through the pastures to reach the green and wooded valleys of Kashmir. After Drass, deemed the second coldest place in the world, crossing the breathtaking surroundings of Zoji pass (3530 m). Before descending on the small town of Sonamarg at the foot of the glacier Thajiwas. Lunch at Sonamarg in a setting reminiscent of Switzerland.
Continue to Srinagar. Dinner and overnight on board.

Day 16: Srinagar
Morning calm to recover the road and enjoy the sun of the Himalayas.
Departure for the west bank of the Dal Lake to Hazratbal Mosque. Visiting a Hindu temple that offers a breathtaking view of the wide valley of Kashmir (rare in this country of Islam!): The temple of Shankaracharya. It is accessible by a winding road. At the end of the road, leaving phones and cameras at the police station.
Dinner and overnight on board.

Day 17: Srinagar
Early departure for the floating market Nagin Lake. Our rower must meander through thousands of lotus flowers floating on the waves.
Discovery of Char Chinar, an island on the lake.
Lunch in the old city, built at the foot of Mount Hari.
Visit the 2 most interesting mosques: Masjid and Jama Masjid Shah Mamadan.
If possible, access to Hari Parbat Fort, built on a hill by Atta Mohammad Khan in the 18th century. The hill is surrounded by a wall built by Emperor Akbar in 1592 to 1598.
Dinner and overnight on board.

Day 18: Srinagar
After the last breakfast on the lake, the morning will be devoted to visiting Nishat and Shalimar Gardens.
Breakfast and transfer to Vivanta to enjoy the pool.

Day 19: Srinagar
Srinagar last day shopping in the bazaars. City tour.
Cheshmashahi first Mughal garden.

Days 20 and 21: Srinagar - Delhi - Paris